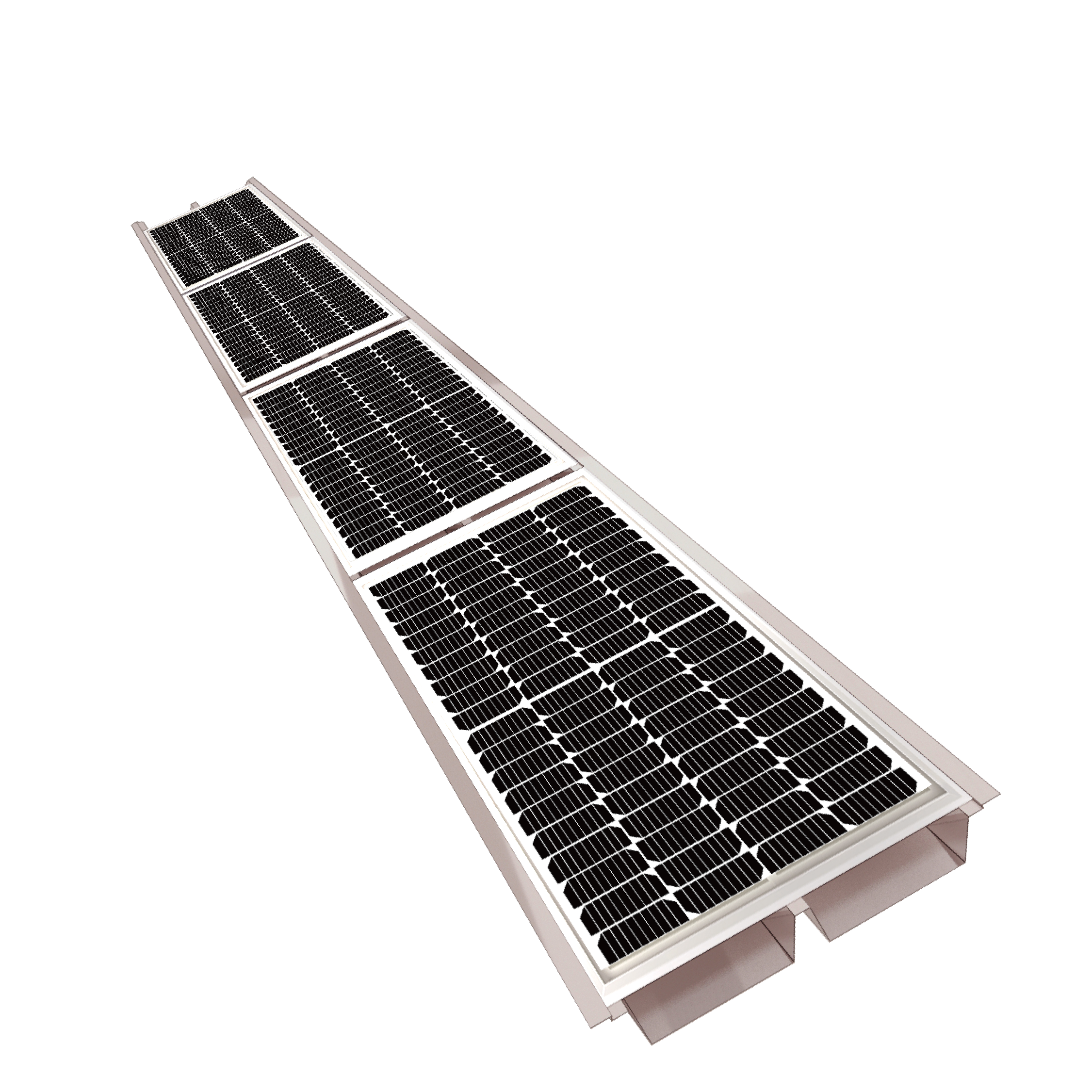 AUO has developed a building-integrated PV corrugated sheet by combining PV modules and the modularization technology of high-peak corrugated sheets to greatly reduce the complexity of installation compared to conventional PV mounting systems. In addition to eliminating the use of mounting system, this system also allows quick installation at the project site, reduction of construction hours, and perfect integration with the building in effectively utilizing maximized power generation efficiency from the surface area of the building.
Building integrated PV systems for quick installation with multiple length options

The building integrated PV corrugated sheets feature customized lengths and one-step construction, which can lead to reduced construction costs and perfect integration with buildings.

Simplified and light weight design

Compared to conventional PV mounting systems, the lack of accessories such as mounting systems, clamps, and screws in the building integrated PV corrugated sheets not only greatly reduces the complexity of installation, it also lowers the structural issues and leakage risks due to secondary processing such as screw locking and drilling. Moreover, it can reduce the weight by as much as 35%.

Roof thermal insulation performance

The air layer between the PV module and the corrugated sheet can provide the roof with outstanding thermal insulation to reduce indoor temperatures.
Applications
Product characteristics of PV corrugated sheet integrated building materials allow for use in different fields:
New industrial plants

Scaffolding areas

Refurbished areas
Specification
Electrical Data (STC)

Nominal Power

1.0kW/1.25kW/1.5kW/1.75kW

Max. System Voltage

1500V DC

Typ. Temperature Coefficient of

-0.35 % / °C

Certifications

According to IEC/EN 61215 and IEC/EN 61730 guidelines

Dimensions
- W x H Corrugated Metal Sheet
- W x L Solar PV Panel

765 x 95 mm
720 x 1750 mm
Specification
Electrical Data (STC)
Nominal Power
1.0kW/1.25kW/1.5kW/1.75kW
Max. System Voltage
1500V DC
Typ. Temperature Coefficient of
-0.35 % / °C
Certifications
According to IEC/EN 61215 and IEC/EN 61730 guidelines
Dimensions
- W x H Corrugated Metal Sheet
- W x L Solar PV Panel
765 x 95 mm
720 x 1750 mm
More products specifications