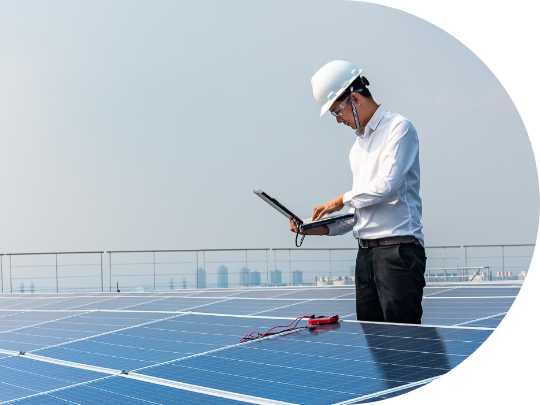 AUO has long been dedicated to offering global clients comprehensive solutions with sustainable value. We establish differentiated advantages by upholding its spirit of excellence in corporate sustainability and strategic planning capabilities to meet diverse market needs.

With its ability and experience in coordinating and integrating power plant projects, AUO is dedicated to offering global clients sustainable and comprehensive solutions. In addition to technical advantages and partnership, AUO can also integrate resources and provide comprehensive solutions with high efficiency and integration, from power plant applications, construction, operation, and maintenance, to energy management.
AUO combines its own module products with development, engineering, operation and maintenance, and power plant investment platforms to meet the customized needs of owners, as well as provides comprehensive professional one-stop services for our customers. In addition to quick start-up, it also allows easy management and recycling for clients!
Power plant development

AUO has widespread experience in many cases throughout Taiwan, and maintains long-term collaboration and good relationships with various professional teams to provide custom advice and comprehensive project services according to customer needs.

Module supply

Over the years, AUO has developed a complete range of solutions based on customer needs that can ensure excellent power generation performance and also meet requirements for building appearance and site characteristics.

Power plant construction

AUO has an abundance of experience in managing electric utility engineering and construction to flexibly deploy various methods for the construction of power plants in accordance with unique conditions on site, while also meeting requirements for high quality and local regulations.

Intelligent Cloud Surveillance System

AUO's integrated system combines cloud monitoring software and data recorders to help customers monitor energy generation information in real time. The system achieves autonomous power plant management and optimizes operation and maintenance efficiency by abnormality detection, loss quantification, and automatic work assignment with digital data and AI technology.

Micro-Grid Energy Management System

Integrates all renewable energy systems, energy storage systems, and distributed energy systems in the micro-grid to meet various energy management demands.

Power plant investment

AUO collaborates with several reputable Taiwanese insurance companies to create a platform with local stable funding resources for power plant operation and investment. We activate power plant assets for investors, and bring long-term stable investment benefits.